Be steadfast in your practice. Be true to yourself.
Steadfast & True Yoga is a studio based on right actions, less distractions. We are dedicated to to creating a strong Yoga community by making yoga accessible to everyone. We offer over 40 classes a week at a variety of styles, levels, and times.
There are many options for yoga in Nashville, so you might be wondering what makes us special? All of our teaching is based in sound movement and breath work with a specific focus on alignment to keep you safe and practicing for years to come. We are friendly and easygoing, but will also challenge you when you need it. We strive to be welcoming to all levels of practice, backgrounds, and abilities so don't be afraid to ask for guidance.
But most importantly we are teachers first. We want you to learn something - about your body, your breath, and/or your soul - every time you step on the mat. As teachers we are here to inform just as much as we are here to inspire. We'll help support a steady practice. All we ask is that you show up.
Gillian is the owner and beloved leader of Steadfast & True Yoga. Nomadic from birth, Gillian was raised by traveling ministers with her older siblings, two cats, and a dove, who traveled all over Europe and the US listening to her mother teach (not preach, she taught). Traveling, sitting, and listening (those last two took time to appreciate) are still a huge part of her adult life.
She started her asana practice in 1999 after a life of dancing (ballet & contemporary). She didn't know how much she relied on physical movement to take care of her emotional state until she quit dance. She had no idea where she was storing all of her feelings until that moment. When she took her first Ashtanga yoga class she felt completely clear and whole again, it was magic!
For a long time that is where she stayed, heavy in the physical form, convinced others would benefit in the same way. After studying in India she tried to teach what she had learned and was sorely mistaken on how yoga works for everybody. She quickly adapted her approach, learning, re-learning, and continuously refining how she can be of service to others, herself, and her family through the practice of yoga.
Gillian opened Steadfast and True Yoga in Nashville, TN in August 2010. She wanted to create a studio and space that holds tightly to values of right action, less distraction, to create healthy reactions. She wanted to create an extended family. She succeeded. Steadfast is constantly growing and evolving, but it has been, and will continue to be, an amazing journey for her and everyone involved.
She is passionate about truth and integrity and asks for that in her yoga classes. She asks the yogi to seek the knowledge of breath and asana before fluidity and vinyasa. She teaches strong alignment based Ashtanga, Vinyasa and Hatha classes. When you come to her class know that you are safe and supported in the journey we take together. It's important to understand that everything in Yoga is attainable although it's a process that needs to explored.
Gillian asks students to focus on what their true needs are and let go of wants. That way they (we) can stop being so needy and stop wanting what isn't ours.
She uses humor throughout her classes, and life, and loves when people laugh at her jokes. Seriously, please laugh at her jokes. She adores and thanks the universe daily for her husband Jason and their daughter Sydelle.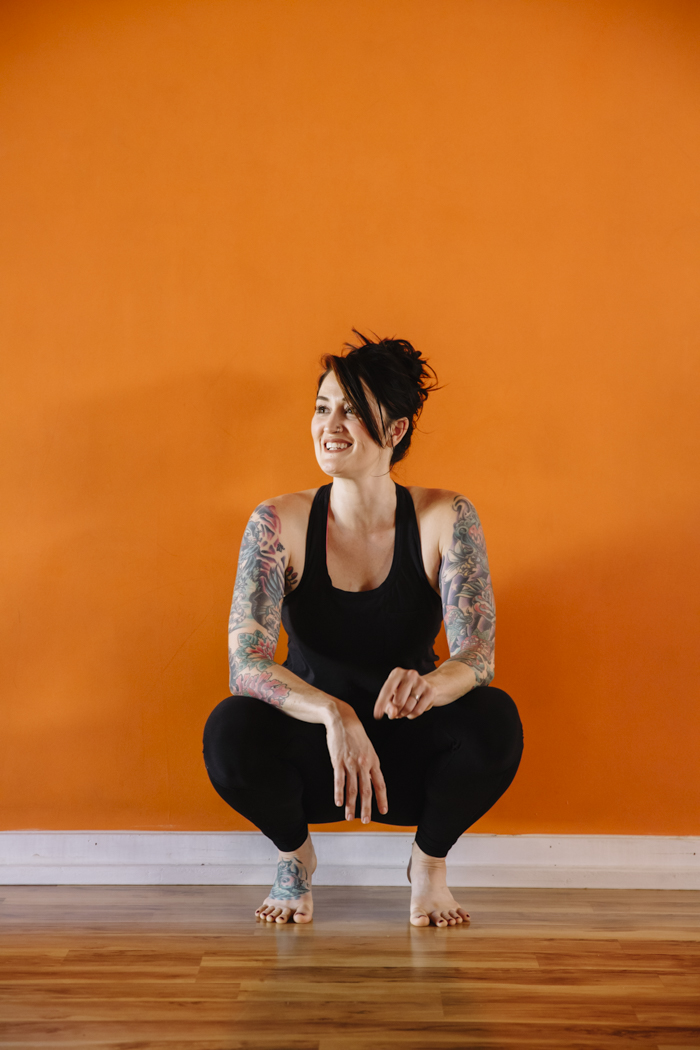 Don't take our word for it - here's what people are saying about Gillian
"She is a teacher's teacher. She has a reputation for taking the asana away only to give it back specifically designed to suit the students individual needs. Her motto of 'define and refine' is exactly how she teaches each class. No matter the level or style of class be it 2 people or 200 she's talking directly to you. 'Once you know where to go then you can flow.'"
"Gillian's Vinyasa classes reflect her dancers nature and are creative, fluid, very powerful. Her Ashtanga classes require the discipline that is needed to stay safe and continue 'the Practice' for life."